I've been making this "dump cake" for as long as I've been cooking. And that's quite a long while! I started cooking with my Grandmother when I was high enough to reach the counter in the kitchen with a step stool. I remember Gramma letting me crack eggs, stir batters and scoop cookies before I could even write my name :) Certainly she instilled the love for cooking in me and I recall her with fond memory every time I have my own kids in the kitchen with me now... some 30 years later. Hopefully my kids will have the same wonderful memories of me one day when they are in their own kitchens with my grandchildren.
Dump cake is simple, delicious and economical. It's not a fancy dessert, for sure... but it seems kids and adults alike enjoy it. I think it's best served with some homemade vanilla ice cream, but some freshly whipped cream would be good too. Or, if you're feeling indulgent... maybe *both* =D Fresh and still warm from the oven is to die for, but even cold it's good and it does reheat in the microwave fairly well.
*Cast of Characters*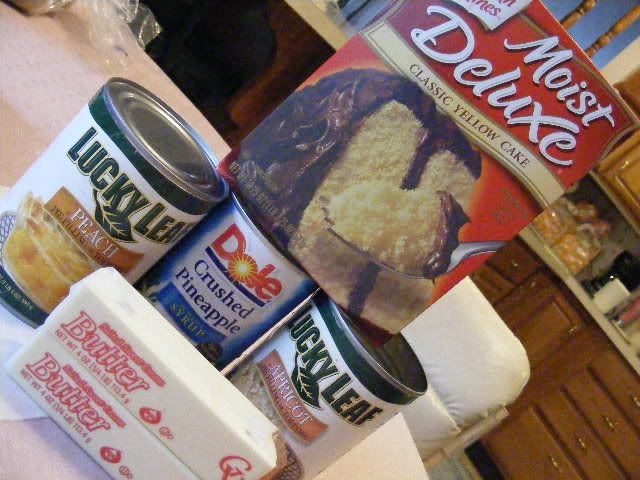 *First, "dump" your canned fruit into a baking dish*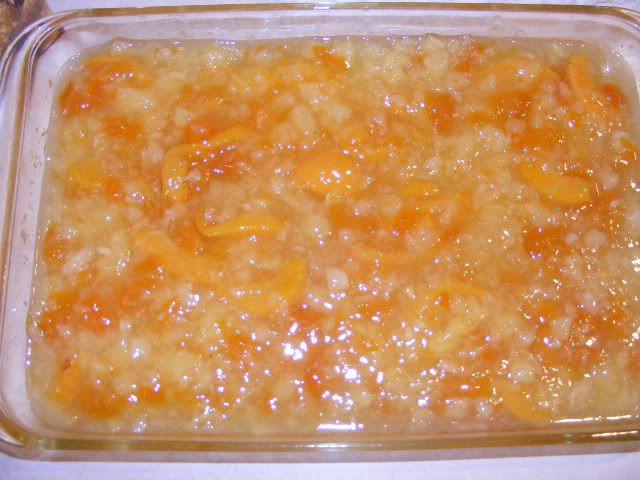 *Cover the fruit with the cake mix and pats of butter... LOTS of butter!*
*Bake and dig in!*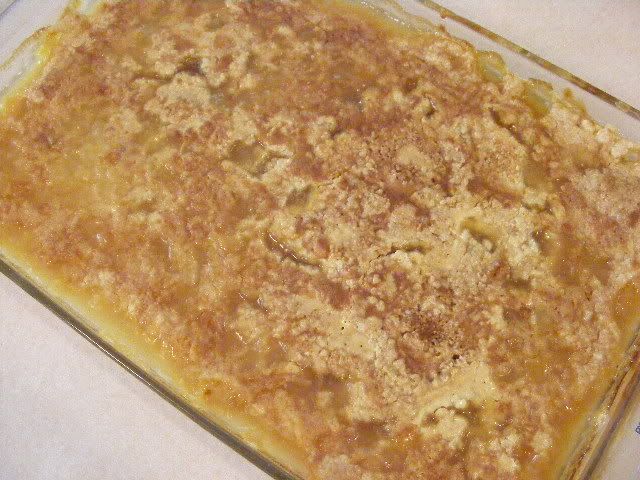 Ingredients:
* 1 (20 ounces) can crushed pineapple, undrained
* 2 (21 ounces) can prepared pie filling (I used peach and apricot)
* 1 (18.25 ounces) box yellow cake mix
* 2 sticks of butter or margarine, each cut into 12 slices
* 1/4 cup chopped nuts (your choice-optional. I don't use them)
Preparation:
Preheat oven to 350 degrees F (325 for glass baking dish). Have a 9 by 13-inch baking pan ready.
Dump undrained pineapple baking dish or pan and spread it out evenly.
Dump globs of pie filling evenly on top of the pineapple.
Sprinkle the cake mix evenly over the pineapple layer.
Cut butter into slices with a butter knife and place slices evenly over cake mix.
Sprinkle nuts on top if you're using them.
Bake for one hour. Use heavy oven mitts to remove the dump cake from oven or let your older helper do it.
To serve, scoop cake out with a large spoon like a cobbler, and dump it on a nice plate. A scoop of vanilla ice cream is delicious with dump cake. Serve warm or cold.
Yield: about 10 to 12 servings