One of my favorite summer dishes is this delicious tomato, mozzarella and basil salad from Italy called "insalata caprese." For this salad, several things are *very* important to make it the best it can be.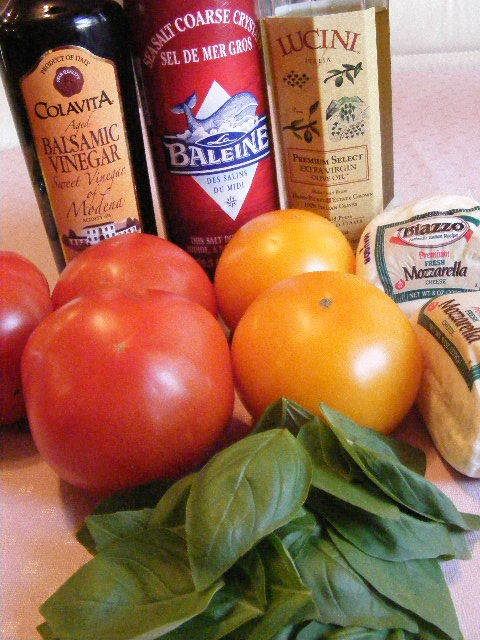 First, you need ripe yet still firm, meaty tomatoes. I like to use beefsteaks when I can get them. I also like to add in a couple of yellow tomatoes, when I can find them. The color of the red and yellow tomatoes together with the vibrant green basil and milky white cheese is so pretty.
Secondly, this salad begs for *really* good olive oil. The best you can afford. That light, all purpose olive oil you find at the discount store won't cut it. You won't be needing a lot of it, so splurge if at all possible and get the good stuff. You want that thick, darker colored extra virgin olive oil for this dish.
Thirdly, get the freshest mozzarella you can find. Really, to make this best you need the mozzarella packed in water. I have used (as I did in this case) mozzarella that is wrapped with a small amount of water, and while it's *okay*, the mozzarella that is packed in a plastic "bowl" and swimming in water is really the best. Unfortunately, I live in a *very* small town and my local grocer was out of it, so I made do with what I could find. It's still really good, but not as excellent as it could have been.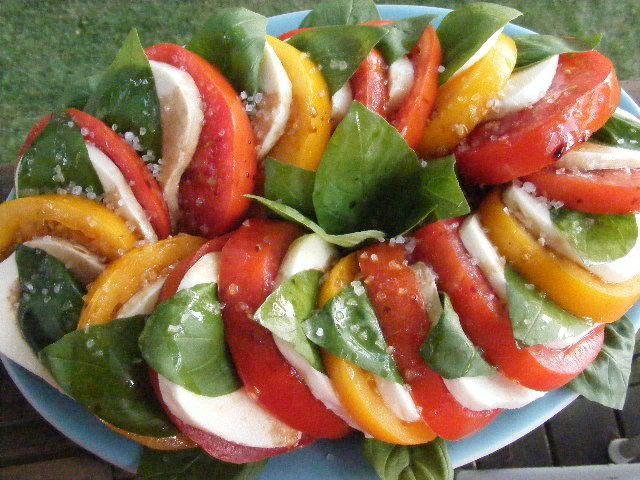 Lastly, the balsamic. I really like this salad with a drizzle of balsamic. However, the traditional recipe doesn't call for it and a good Italian chef would tell you it's a no-no. The tomatoes are acidic enough and it doesn't need the added acid of the balsamic. Yeah well... I like it, so I drizzle. You don't have to. That's the wonderful thing about cooking... you can do what ever *you* want to :)
I really hope you'll try this salad this summer while the tomatoes are plentiful. It's light, tasty and amazing.
Ingredients:
4 tomatoes - about 1 lb, not too ripe
1/2 lb fresh mozzarella cheese
basil leaves
sea salt
freshly crushed black pepper
3 - 4 tablespoons extra-virgin olive oil
a drizzle of *good* balsamic vinegar (optional, but not traditional)
Method:
Wash and slice tomatoes into thick (1/2 inch) slices. Drain mozzarella and slice into thinner slices (1/4 inch). Pick off the largest, finest basil leaves from the stem. Wash basil gently and spin dry. Arrange salad on a large platter, alternating a tomato slice, a slice of cheese and top with a basil leaf until all your ingredients are used. Right before service, drizzle salad with olive oil, balsamic (if using), and sprinkle liberally with sea salt and freshly ground pepper. Serve immediately.