This is the first in a series of posts done completely by my 10 year old son. He's got a huge interest in cooking and is becoming quite the little food enthusiast. Everything you see in these posts have been conceptualized and created by him... the recipe, the text, and the photography. I've tried to be only minimally involved, allowing him to use my kitchen blog as the stage for

his

creativity. -KG
Hi! My name is Vaughn and I'm 10 years old. I've been asking my mom if I could do a post on her cooking blog for a while now. I was so excited when she told me that I could come up with an idea and post about it. This is what I made.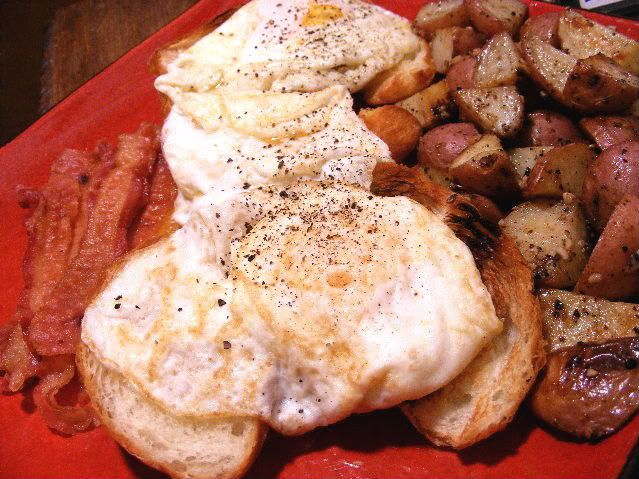 This is my "Breakfast in bed" meal. I am the oldest of the kids in our house and sometimes my mom lets me stay up really late with her on a weekend night. It's our time to do something special together when my sister and brother are in bed. Mom got a movie for us to watch and we ate dinner together in her big feather bed while we watched the movie. We watched "Mr. Magorium's Wonder Emporium." It was fantastic! We had breakfast in bed, for dinner. Mom and I shared this plate. It was enough to eat for two people.
We got a croissant and I cut it in half and toasted it in the toaster. Be careful if you do this because it can get burnt if you don't watch it. Take it out as soon as you can smell it toasting. It will be a little crunchy and that it good. I laid that out on a plate and then fried 3 eggs in a little butter on the stove in a skillet. I even flipped them myself and only one of them broke. The eggs go on top of the toasted croissant. The runny yellow part of the egg on the crunchy croissant is really good. I like a lot of pepper on eggs.
Mom had made some roasted potatoes for dinner the night before and I used the leftovers for breakfast in bed for dinner. I put them into a skillet with a little olive oil and reheated them and browned them a little more. A little salt and pepper on those and put them on the plate next to the eggs.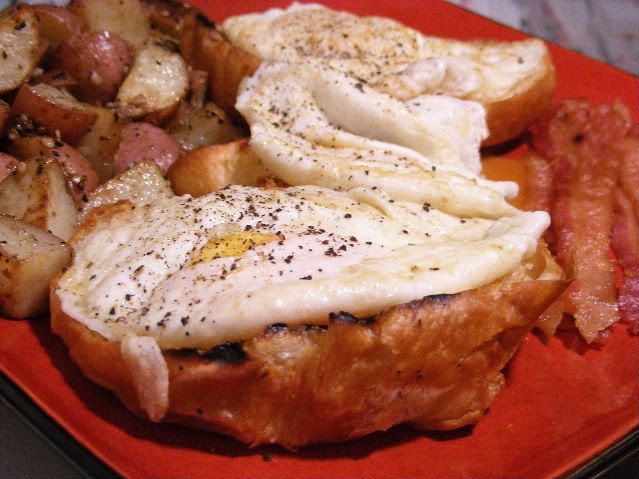 Lastly I made some microwave bacon. I know it's not as good at the real bacon but my mom was worried about me frying bacon with all the splattering grease. This was ok instead. Next time though I think I will get sausage links. Maybe she'd let me cook those.
It was great and I had a lot of fun making it. We had a wonderful night. Thanks for reading my blog post!
I took this picture.. I wanted one with him holding his creation :)- KG