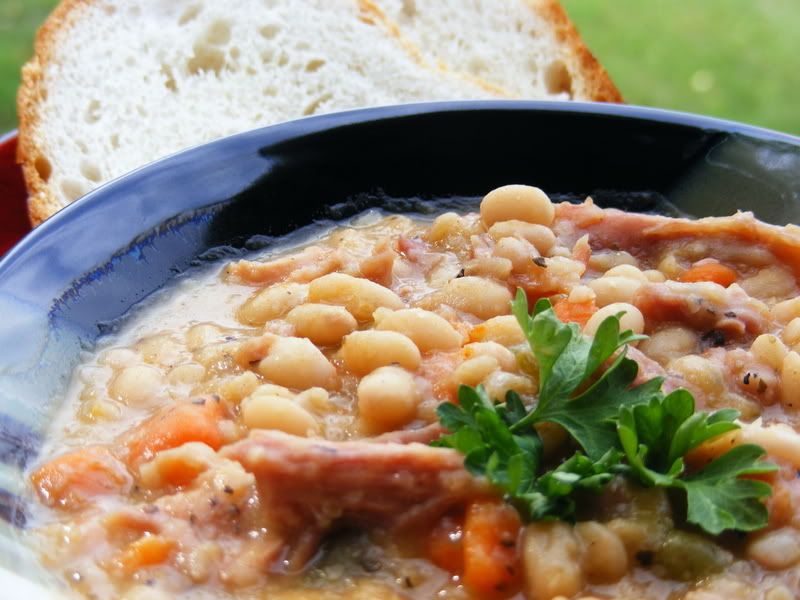 The weather here in Pennsylvania has slowly been getting cooler and everyday it feels a little more like Autumn. Football season has started, the leaves will soon begin changing. This time of year always makes me crave hearty belly warming foods... like soups and stews. The kinds of meals that simmer all day on the stove and fill your home with mouthwatering scents and the promises of the wonderful meal to come.
Ingredients:
1 pound of navy beans
3 quarts of vegetable stock or water (I *really* suggest using stock)
2 pounds of ham shanks
1 cup diced onions
1 cup chopped celery
1 cup chopped carrots
2 cloves garlic, diced
1/2 teaspoon dried rosemary
1/2 teaspoon dried marjoram
1/2 teaspoon dried basil
1/2 teaspoon dried thyme
1 bay leaf
To Finish:
Salt and pepper to taste
Fresh parsley for garnish
Tabasco sauce to taste (optional)
Method:
Soak the beans in at least 3 quarts of cold water
overnight
. Drain the water and rinse the beans in clean water before using.
Put the ham shanks in a large pot and cover with stock. Simmer for about an hour. Add the chopped vegetables, beans, garlic, rosemary, marjoram, basil, bay leaf, and thyme. Simmer for 2 hours, or until the beans and vegetables are to your desired softness.
Remove the shanks from the soup, allow to cool and remove the meat from the bone. Cut the meat into bite sized pieces and return to the soup. Reheat the soup on a low flame, if needed.
Add a few drops of Tabasco to taste (this is optional). Add salt and pepper to taste. Serve with chopped fresh parsley.
Note: This soup is even better it made and served the next day after the flavors have a chance to mingle over night in the refrigerator.
Serves 8.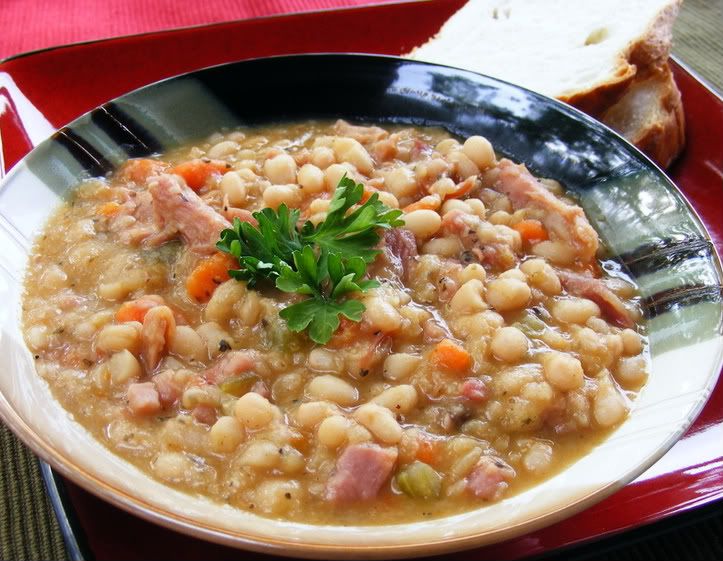 "Come join SoupaPalooza at
TidyMom
and
Dine and Dish
sponsored by
KitchenAid
,
Red Star Yeast
and
Le Creuset
"