The most wonderful thing about this casserole is that you can pretty much do anything to it that you'd like as long as you stick to the basic amounts called for. If you would prefer sausage instead of ham... go for it. The same goes with the vegetables and cheese. I've made this in countless varieties and they've always been really good. Use your imagination and your families favorites to make this recipe your own.
Another great thing about it is that you can assemble it a day ahead and have it ready to pop in the oven the next morning. This is my "go to" breakfast on Holidays like Christmas and New Years because I can get it ready ahead, throw it in the over and be done. Instead of cooking, I can be enjoying that time with my family but still be providing them with a delicious and hearty breakfast. Great stuff!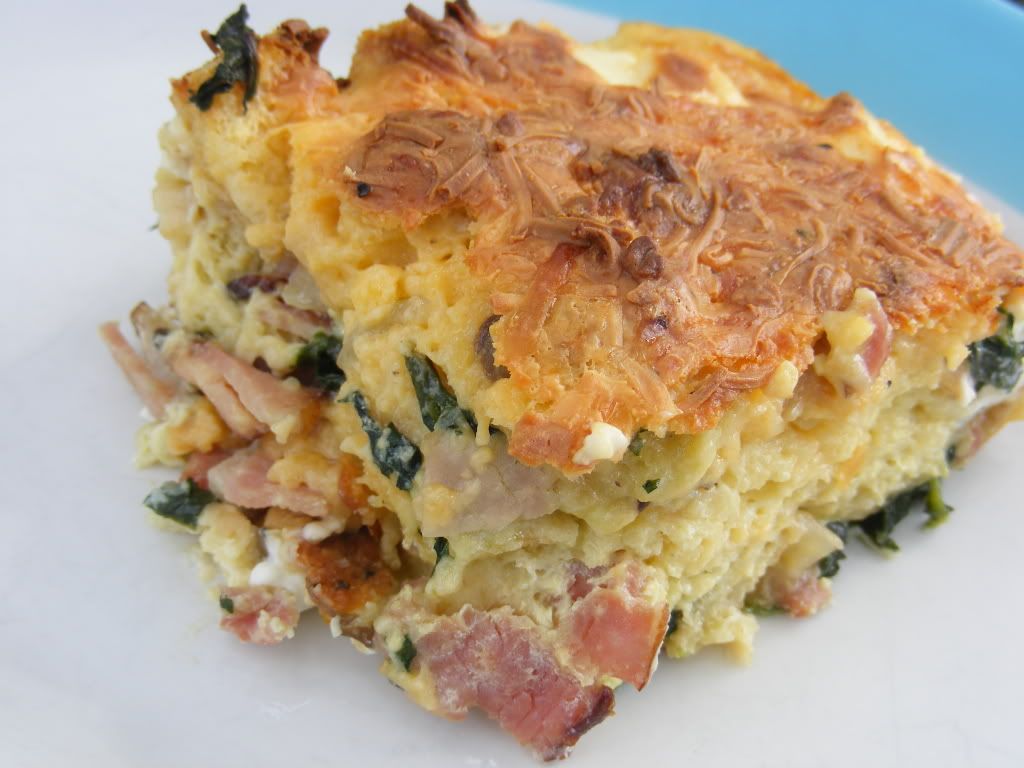 Ingredients
* 2 cups Ham diced
* 4 1/2 cups cubed sourdough bread
* 3 cups shredded sharp cheddar cheese
* 1 brick of light cream cheese
* 1 medium sweet onion, chopped
* 1 pound mushrooms, sliced
* 1 bunch baby spinach. chopped
* 12 eggs
* 2-3 cups whole milk (try 2 cups, if your mix doesn't seem wet enough add more.)
* 1 tsp dry mustard
* 1 tsp salt
* Fresh ground pepper to taste
* 2-3 Tablespoons butter or olive oil for sautéing and to butter the baking pan.
Method
1. I like to sauté the diced ham to give it some color and also to render out any extra fat. Browned ham just tastes better. Set aside.
2. Gently sauté the mushrooms and onions until tender, set aside.
3. Sauté the spinach until just wilted, set aside.
4. Butter a 9x13 inch baking pan. Combine the eggs, milk, dry mustard, salt and pepper in a bowl and mix well. In another larger bowl combine the bread cubes, ham, mushrooms, onions and half of the cheddar cheese. Add the egg mixture to the bread mixture and turn gently to combine. Spoon this mixture into the buttered baking pan.
5. Cut the cream cheese into small pieces and evenly distribute over the top of the casserole. Cover with the remaining cheddar cheese.
6. At this point you can cover and refrigerate overnight, to bake the next day. Whether you make this immediately or refrigerate over night, allow it to set for 30 minutes at room temperature before baking. Preheat oven to 350 degrees F. Bake uncovered for about 1 hour to 1 hour and 15 minutes, until the eggs are completely set.
Serves 8-10