I made this wonderful combination for a light lunch the other day and everyone adored it. A classic Caesar salad topped with smoked mozzarella fritters. I left out the croûtons that would normally go along with a Caesar salad, since I felt there was enough crunch with the fritters. However, I will include the recipe I would have used for the croûtons, should you want to make them. For a lunch meal, this salad alone with a couple of fritters was enough. If I was going to serve this for dinner, I think I would pair it with a soup and a nice hunk of crusty, buttered Italian bread. I think it would be delicious with a simple tomato soup or maybe a minestrone. Together these recipes will serve about 4. Enjoy!
Smoked Mozzarella and Ricotta Fritters
Recipe courtesy:
Giada De Laurentiis
*Ingredients*
1 1/2 cups fresh whole milk ricotta
1 1/2 cups shredded smoked mozzarella
1/4 teaspoon salt
1/4 teaspoon freshly ground black pepper
2 cups panko (Japanese bread crumbs)
3 large eggs
3/4 cup all-purpose flour
Vegetable oil, for frying
1 tablespoon fresh chopped thyme leaves
*Method*
In a small bowl combine the ricotta, smoked mozzarella, thyme, salt, and pepper. In another bowl pour the panko. In a third bowl lightly beat the eggs. Put the flour in a fourth bowl. Line a tray with parchment paper.
Scoop a 1 1/2 tablespoon ball of the cheese mixture into the flour and roll to coat. Transfer the ball to the eggs and roll to coat. Transfer the cheese ball to the panko and again roll to coat. Transfer the ball to the parchment-lined tray. Continue with the remaining cheese mixture.
Meanwhile heat 3 inches of vegetable oil in a large skillet to 350 degrees F. Fry fritters in batches, being careful not to overcrowd the pan, until golden, about 1 to 2 minutes. Remove with a slotted spoon to paper towel to drain.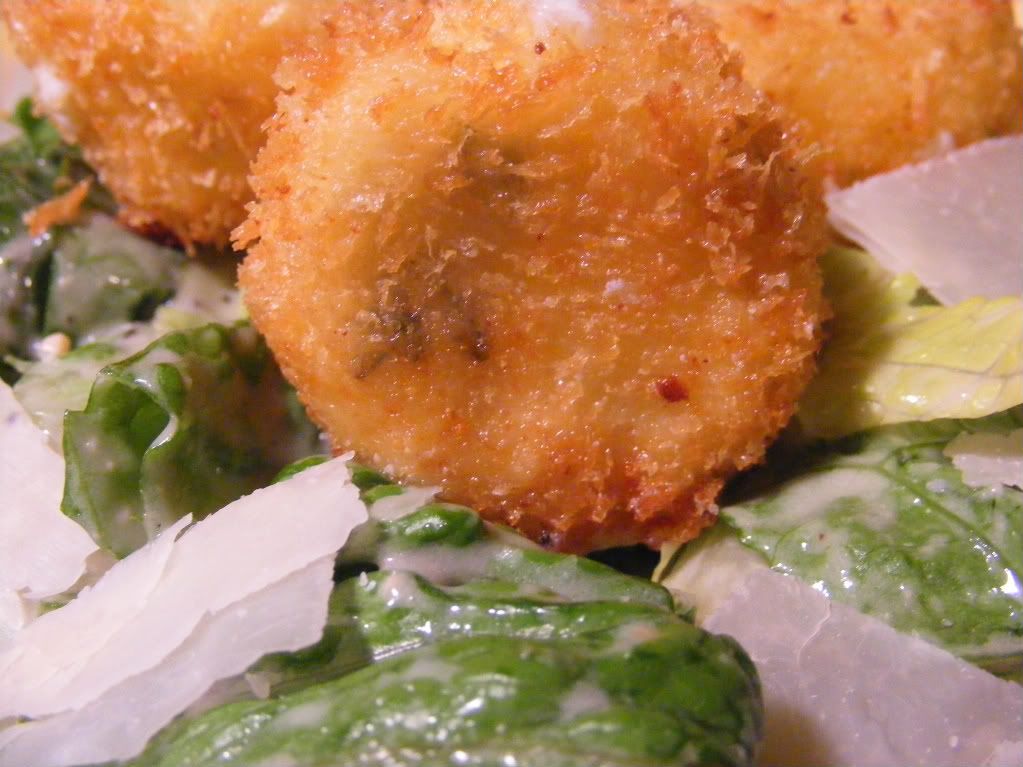 Caesar Salad
Recipe courtesy:
Martha Stewart.com
*Ingredients and Equipment*
For Croutons
2 tablespoons unsalted butter, melted
2 tablespoons extra-virgin olive oil
1 8- to 10-ounce loaf rustic Italian bread, crusts removed, cut into 3/4-inch cubes
2 teaspoons salt
1/4 teaspoon ground cayenne pepper
1/2 teaspoon freshly ground black pepper
For Dressing
2 garlic cloves
4 anchovy fillets
Coarse salt and freshly ground pepper
1 tablespoon fresh lemon juice
1/2 teaspoon Dijon mustard
1 large egg yolk
1/2 cup extra-virgin olive oil
For Salad
2 heads romaine lettuce, inner leaves only, cut into 1 1/2-inch pieces (about 12 cups)
1 cup freshly grated Parmigiano-Reggiano cheese, plus shavings for garnish
*Bake Croûtons and Mix Dressing*
Step 1
Heat oven to 450 degrees. Combine the butter and olive oil in a large bowl. Add the cubes of bread, and toss until coated. Sprinkle the salt, cayenne pepper, and black pepper over the bread crumbs, and toss until evenly coated. Spread in a single layer on an 11-by-17-inch baking sheet. Bake until the croûtons are golden, about 10 minutes. Transfer to a wire rack to cool.
Step 2
In a large wooden salad bowl, mash garlic, anchovy fillets, and 1/2 teaspoon salt into a paste using two forks. Use a balloon whisk to mix in 1/4 teaspoon pepper, the lemon juice, mustard, and egg yolk until smooth and combined, and then gradually whisk in the oil in a slow, steady stream, until dressing is emulsified.
Step 3
Add lettuce, cheese, and croûtons and toss to coat with the dressing