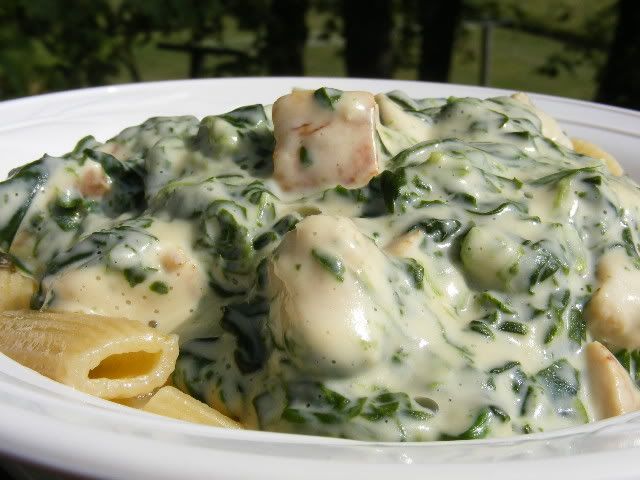 I make this recipe at least a couple times a month... sometimes as often as once a week. My kids love it. I always serve this over penne pasta because the sauce is *very* thick. There is a LOT of spinach in it... if you would prefer you could half the amount to make it creamier. I usually serve this with a slice of garlic toast on the side. It's a simple, filling and delicious meal.
Ingredients
1 # penne pasta, cooked to package directions. I also like a drizzle of good olive oil over the pasta right before serving for extra flavor.
2# fresh baby spinach, chopped and wilted in 1 tablesoon bacon grease (I know so sinful!) or olive oil.
2 Cups diced cooked chicken breast ( I like it grilled the best)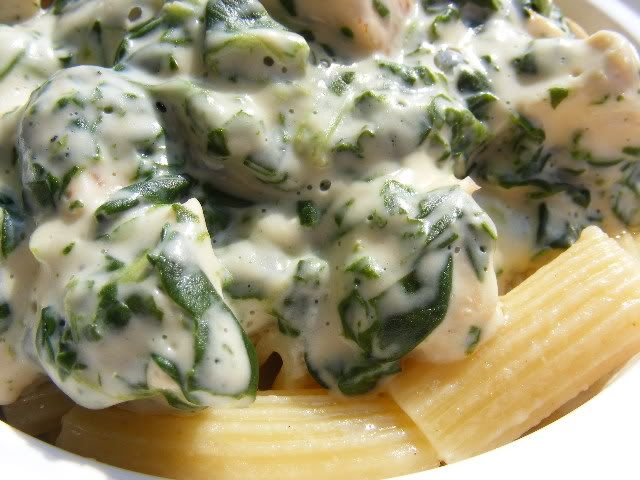 Alfredo Sauce
2 Tbsp unsalted Butter
2 cloves garlic, chopped
4 Cups heavy cream
3/4 Cup parmigiano reggiano
1 tsp chopped Italian parsley
Kosher salt and freshly ground pepper
Melt the butter in a saucepan over medium heat, saute garlic until soft.
Add the cream and bring to a simmer.
When the cream has reduced in volume by half (about 8-10 minutes)add the Parmesan and whisk well to incorporate.
Season with salt and pepper to taste and toss in the Italian parsley just before serving.
Once you have the chicken and spinach ready, make the pasta and Alfredo sauce at the same time. Once the sauce is completed, add the spinach and chicken, combine well and heat gently on the stove if needed. Serve over the pasta and enjoy!