Ingredients
* 1 pound asparagus
* 4 Tablespoons butter (reserve 1 Tablespoon)
* 1/2 cup chopped shallots
* 1 cup arborio rice
* 1/2 cup white wine (use a dry wine you would like to drink, please!)
* 4 cups chicken or vegetable stock
* 3/4 cup freshly grated Parmesan cheese
* Salt and pepper
Method
* Prepare the asparagus by breaking off the last inch of the spear, this is to get rid of the tough parts. Cut into 1 inch pieces. Bring a saucepan with a quart of water to a boil. Blanch the asparagus pieces for 4 minutes. Remove the asparagus pieces and place into ice water. This will stop the cooking process and keep it's beautiful green color. Drain and set aside.
* Bring the stock to a simmer in a saucepan. Keep the stock simmering as you use it.
* In a 4 quart saucepan, heat 3 Tablespoons butter on medium heat. Add the shallots and cook for a few minutes until tender. Add the rice and cook for 2 minutes more, stirring until well coated.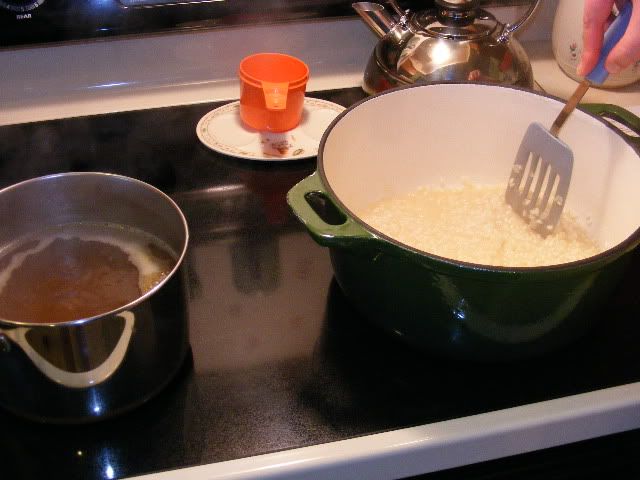 * Add the wine. Stir, allowing the rice to absorb the wine. Once the wine is almost completely absorbed, add 1/2 cup of stock to the rice. Continue to stir until the liquid is almost completely absorbed, adding more stock in 1/2 cup increments. Make sure you keep stirring and do not walk away, you do not want this rice to stick. Continue cooking and stirring rice, adding a little bit of broth at a time, cooking and stirring until it is absorbed, until the rice is tender, but still firm. This should take about 20 minutes. Remove from heat.
* Stir in the Parmesan cheese, the remaining 1 Tablespoon butter. Finally, carefully fold in the asparagus. You may want to re-heat the asparagus a bit in the microwave before adding it to the risotto. Add salt and pepper to taste. Serve immediately.
Makes 4 side servings, or 2 meal sized.