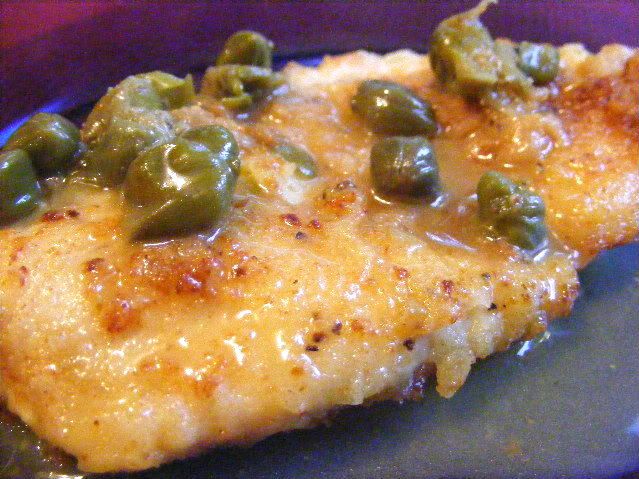 Ingredients
1.5 Pounds boneless, skinless chicken breast pieces
1/4 cup grated Parmesan cheese
1/2 cup flour
Sea salt
Freshly ground pepper
4 Tablespoons olive oil
4 Tablespoons butter (divided)
3/4 cup dry white wine
3 Tablespoons lemon juice
1/3 cup capers in brine (drained)
Method
1. Butterfly your chicken breasts and flatten to 1/4 inch thick with the flat side of a meat mallet (if you don't have a mallet, a rolling pin works as well.) I suggest placing the chicken between layers of plastic wrap to flatten, it keeps the mess in check.
2. Rinse the chicken well in water.
3. Mix together the flour, Parmesan, sea salt and pepper in a large, flat bowl.
4. Dredge the chicken in the flour and cheese mix until well covered. Set aside.
5. In a large, heavy bottomed skillet, heat the olive oil and half the butter over medium high temperature. Add chicken pieces and brown well on each side. About 5 minutes per side, but make sure you check that they are cooked throughly.
6. Transfer chicken to a plate and cover with foil to keep it warm while you prepare the sauce.
7. To the skillet, add white wine, lemon juice and capers. Make sure to get all those yummy browned bits off the bottom of the pan, they add wonderful flavor to the sauce! Simmer until it is reduce by about half. To finish the sauce, whisk in the remainder of the butter. Serve the sauce over the chicken.
Serves 4.